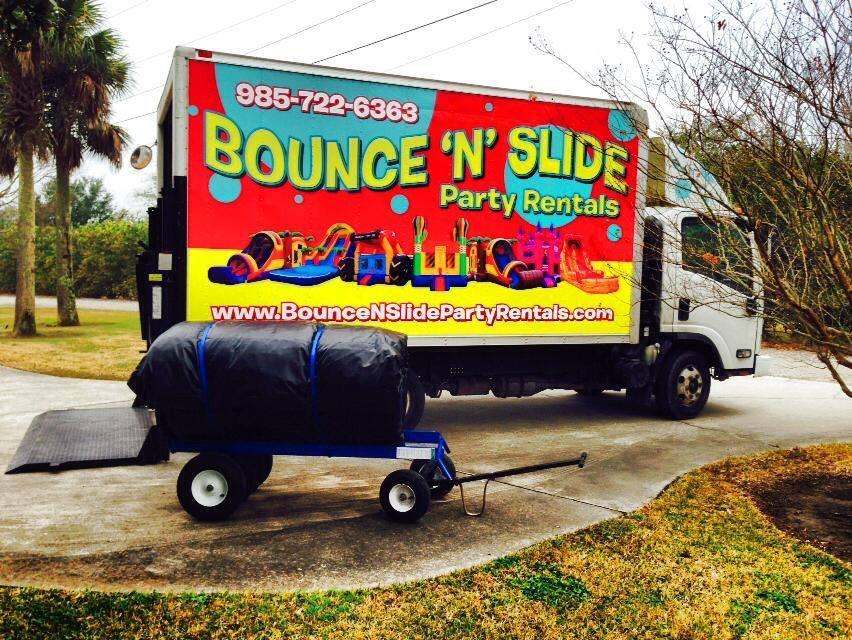 Bounce-N-Slide Party Rentals is a full service, locally owned and operated, wet or dry inflatable and party supply rental company. We provide inflatable bounce house, space walk, water slide, and party rentals including, high peak tents and tables and chairs. We currently service Lafourche Parish including, Thibodaux, Raceland, Houma, Lockport, LA and the surrounding areas.
We offer a large selection of inflatable bounce houses, inflatable water slides, inflatable slip-n-slides, inflatable dry slides, inflatable rock walls, and inflatable obstacle courses in various sizes and themes including our most popular inflatable rentals: 3D Pirate Combo, Mickey Mouse Park Clubhouse Combo, Tiny Tots Express, 3D Amazon Falls Slide, and our 19 foot Wipeout.
In addition to our wet and dry inflatable party rentals, we also offer various party rental supplies including, high peak tents (10′X10′, 15′X15′ & 20′X20′), tables and chairs, and snow ball machines. Regardless of whether your planning a social, school, or corporate event, Bounce-N-Slide Party Rentals should be your #1 choice for inflatable rentals and party rental supplies.
When you choose Bounce-N-Slide Party Rentals for you next birthday party or event, you can sit back, relax, and rest assured that your occasion will be one that will make memories. Our employees deliver and setup your inflatable or party supply rental with pure professionalism. We strive to give our customers the best party supply rental experience possible.
Please refer to our frequently asked questions section for any questions you may have. If you don't see the answer you are looking for, feel free to contact us.
moonwalk rental, bounce house, jumpy, jumpie, jumpee, bouncy, bouncie, moonbounce, bouncer, party, birthday, fiesta, fun, funny, brincollin, birthday party, party jumper, party supply, birthday party supplies, birthday party supply,bounce, bounce house, bouncer, bouncers, bouncies, bouncy, bouncy castle, child birthday party,entertainment, giant inflatables, inflatable bounce, inflatable bounce house, inflatable bouncer, inflatable bouncers, inflatable jump, inflatable jumper, inflatable moonwalk, inflatable moonwalks,inflatable slide, affordable inflatables, inflatable water slide, inflatables, jump house, jumper, kid party moon bounce, moon bouncers, moon walk, moonbounce, moonwalk, moonwalks, outdoor inflatables, party inflatable
<div id='flashcontent'>&nbsp;</div><script type='text/javascript' src='http://www.ninjajump.com/flash/swfobject.js'></script><script type='text/javascript'>var so = new SWFObject('http://www.ninjajump.com/flash/3d/MickeyParkLA.swf', 'model1523', '550', '420', '8.0.23', '#FFFFFF', true);so.addParam('allowScriptAccess', 'always');so.addParam('scale', 'noscale');so.write('flashcontent');</script><div style='visibility:hidden'>3D Image is courtesy of <a href='http://www.ninjajump.com'>Ninja Jump</a>.</div>